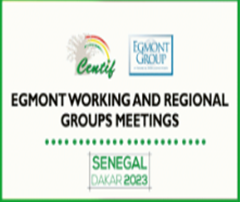 The Director of the FIU-Mauritius was nominated VICE-CHAIR of the INFORMATION EXCHANGE WORKING GROUP (IEWG) of EGMONT GROUP during the 2023 Egmont Group Working and Regional Group Meeting in Dakar where over three hundred Egmont Group Representatives from around the world were in attendance.
The IEWG aims to achieve the following three key pillars within its mandate:
Promoting, supporting, and facilitating the bilateral and multilateral exchange of operational and strategic information
Jointly developing approaches and methods among FIUs to share knowledge and specific insights into global money laundering and terrorist financing threats, new typologies, and best practices
Strengthening the IT capabilities of FIUs and utilizing advancements in technology to improve the collaboration and exchange of information of FIUs
Mrs. Carine Charlette-Katinic holds the office of Director of the Mauritius-FIU, since 17 March 2021 and is President of the Asset Recovery Inter-Agency Network of Southern Africa (ARINSA).
The Director of the Financial Intelligence Unit of Mauritius, Mrs Carine Charlette-Katinic, expressed that she is fully committed to serving as VICE-CHAIR of the INFORMATION EXCHANGE WORKING GROUP (IEWG) and will seize this unique opportunity to reinforce ties and collaboration between all the EGMONT GROUP MEMBERS.