ESAAMLG Mutual Evaluation
The Eastern and Southern Africa Anti Money Laundering Group (ESAAMLG)Mutual Evaluation Process is a peer review exercise which assesses whether a member country is sufficiently compliant with the FATF Standards and whether its AML/CFT system is working effectively. The scope of the evaluations is two-fold consisting of technical compliance and effectiveness. Technical compliance assesses whether necessary laws, regulations and other required measures are in force and effect, and whether the supporting AML/CFT institutional framework is in place. The effectiveness component assesses whether the AML/CFT systems are working, and the extent to which the country is achieving the defined set of outcomes. The Mutual Evaluation Process can be summarized as below: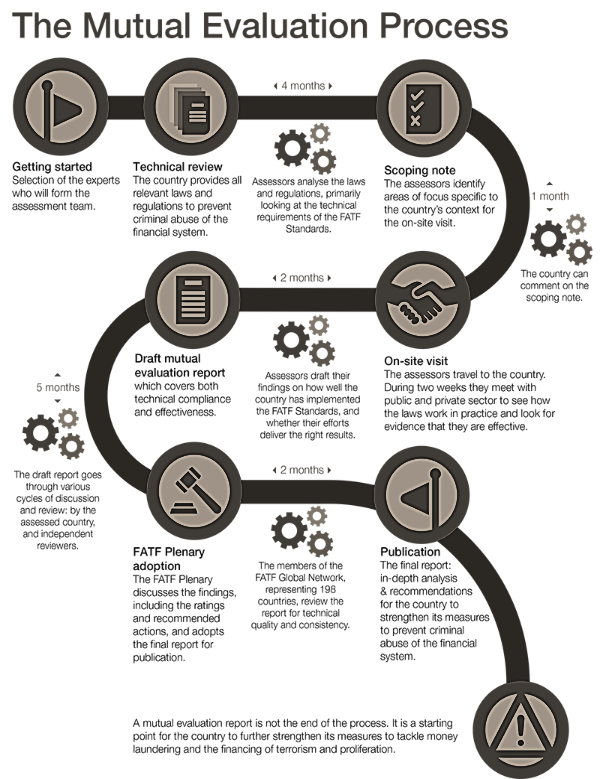 Mutual Evaluation of Mauritius
Mauritius, as a founder member of the ESAAMLG, has adopted the Mutual Evaluation Process to assess its progress in implementing the FATF Recommendations. An assessment of Mauritius' AML/CFT framework was conducted under the Financial Sector Assessment Program of the World Bank & International Monetary Fund in 2003 and 2007. The last assessment also served as a Mutual Evaluation Report (MER) of the Mauritius, following its approval and adoption by the ESAAMLG Council of Ministers in 2008. The Mutual Evaluation concluded that Mauritius was compliant with 5 Recommendations, Largely compliant with 18, Partially compliant with 20 Recommendations and non-compliant with 6 Recommendations.
In 2016, Mauritius further underwent a 2nd round of Mutual Evaluation of its AML/CFT framework under the 2013 Methodology. On 21 September 2018, the ESAAMLG published the MER on its assessment of Mauritius's level of technical compliance with the FATF Recommendations and the level of effectiveness of its AML/CFT system.
Consequently, Mauritius has been in an enhanced follow-up process following the adoption of its MER. In line with the ESAAMLG's 2nd Round Procedures for Mutual Evaluations and Follow up Process, Mauritius submitted 4 follow up reports and applications for technical compliance re-rating to the ESAAMLG, which were considered at its April 2019, September 2019, December 2020 and September 2021 meetings. The 4th Enhanced Follow-up Report & Technical Compliance Re-Rating report issued by the ESAAMLG recognized that Mauritius has made progress in addressing deficiencies against FATF Recommendations and is now Compliant with 26 Recommendations, Largely compliant with 13 and Partially compliant with 1 Recommendation. Mauritius will remain in enhanced follow-up in view of the fact that it had 11 Immediate Outcomes rated Low/ Moderate Level of Effectiveness.
Technical Compliance Ratings
Mutual Evaluation Resources